Jacob will be turning one very soon, and although he has no idea who Elmo is, I've got Sesame Street on the brain. I'm planning to have a small but very Sesame birthday party for him with family. Even though my efforts will be low-key, I do have a special interest in all the Sesame Street creations out there. Here are some excellent ideas from other bloggers to bring the Big Bird and his friends into a little person's world. Or a big person's.
First, here is this fabulous working
Sesame Street lamp
from
My Simple Obsession
:
I also love these
Sesame Street nesting dolls
at
Repeat Crafter Me
. Aren't they adorable?
These two talented bloggers are competing in
One Crafty Contest
at
One Artsy Mama
. I can't wait to see what they come up with next. And I didn't just feature them because they are both named Sarah.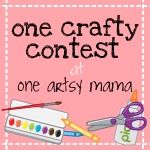 Finally, there are these scrumptious
Cookie Monster cupcakes
from my friend and baker extraordinaire, Lan, at
Angry Asian Creations
. I didn't think you could improve upon a cupcake, but you sure can if you add a cookie.
Feel free to grab a button from the sidebar if you were featured today. Pinners, please remember to click through to the original blog before pinning.
Glad to have these as inspiration as I head into the Sesame Street years. This post was brought to you by the letter S.